Main Page
Jump to navigation
Jump to search
News
The Secret World launch date and Beta weekend announced
Funcom has announced that the company has made a small adjustment to the release date for The Secret World, moving the launch date by two weeks to July 3rd, with Early Access starting June 29th.
The company has also announced a third Beta Weekend, titled 'Hell Raised', which will begin on June 15th and run until June 17th. In this Beta Weekend players will be able to experience the Illuminati and Dragon starter experiences as well as the Templar experience. Players will also get to leave Kingsmouth and venture into the massive region known as Savage Coast, where they will soon find that the very gates of hell itself have opened up. Players will experience the epic 'Hell Raised' dungeon where they will have to battle the demons of hell themselves.
The fourth and final Beta Weekend will begin on June 22nd and run until June 24th. This event will focus on the player vs. player experience in The Secret World, and players will get to sample both the Eldorado battlefield experience as well as the massive warzone gameplay where over a hundred players clash together in persistent battle.
Fifth Character Revealed From Risen 2: Dark Waters
Deep Silver has revealed another character from the epic pirate role playing game Risen 2: Dark Waters.
As the former ship's doctor and a talented distiller, Bones has heavy hardships behind him. He was betrayed from his shipmates and friends and left to rot on a small island, for no reason.
After a long period of loneliness, hopeless wandering and the constant struggle for survival, he was finally found by the natives of Maracai Bay. They tried to return him to good health, but succeeded only with his body. His spirit could not be made whole again.
Infected by the madness and jungle fever Bones suffers from persistent paranoia, visions, fear of death and choleric temper tantrums. Since then, he lives out his life among the residents of Maracai tribe and hopes to release his wearied soul.
The game is due for UK release on the 27th of April 2012 for PC and the 25th of May for Xbox 360 and Playstation 3 game consoles.
Starpoint Gemini available on Steam
Independent videogames publisher Iceberg Interactive today announced that the space RPG and simulator Starpoint Gemini is now available on the Steam online gaming platform as a direct download for PCs worldwide.
The game is released at a reasonable price of €16,99 after an instant 15% discount and includes a free DLC titled "Gladiators".
In Starpoint Gemini, players freely roam the rich Gemini star system, and trade, research, and upgrade ships with state-of-the-art technology. As captains of their own star-fleet, players have to show their skills and gain the upper hand in large-scale battles against fleets of hostile ships.
Publisher for Alan Wake boxed PC version announced
Nordic Games has announced the signing of the publishing deal for the boxed PC version of Remedy's critically acclaimed Psychological Action Thriller Alan Wake.
'It goes without saying that we are very happy and proud to work together with some of the greatest talents and artists of the games industry', commented Lars Wingefors, CEO of Nordic Games GmbH. 'We are really looking forward to the PC version of Alan Wake, especially as we are talking about a fantastic PC adaptation thereof, rather than a mere porting of the code. We will talk about this in more detail in the upcoming weeks' he added.
The boxed PC version will include both XBLA DLCs 'The Signal' and 'The Writer'. Further information on the exact release date will follow in the next days.
In this story-driven and intense Psychological Action Thriller, players assume the role of Alan Wake, a best-selling suspense author suffering from writer's block, who escapes to a small town only to experience the mysterious disappearance of his wife. Set in the seemingly idyllic town of Bright Falls, Washington, "Alan Wake" draws players into an intense, cinematic world that enables players to explore the hyper-realistic and interactive environments. In this nightmarish world, where the boundaries between reality and fiction become increasingly blurred and ambiguous, Alan Wake must use a variety of weapons to survive, including his most powerful ally against the darkness - light itself.
New Screenshots for Wargame:European Escalation released
Eugen Systems, specialist of the genre and developer of the critically-acclaimed R.U.S.E and Act of War: Direct Action, today unveiled a series of 5 new screenshots.
Wargame: European Escalation is a real-time strategy game built around depth and reflection, the key element of all classic war games.
Set in the rarely explored period of 1975-1985, Wargame: European Escalation pits NATO (USA and Western Europe) against the Warsaw Pact (Soviet and Eastern European countries) in battles that explore "what could have been." The specter of nuclear warfare loomed large over the real Cold War, but this catastrophic outcome was the ultimate last resort as everyone knew that the first one to start nuclear hostilities would end up wiped out just the same. Large, armored offensives through Europe would certainly have been the core of this hypothetical war; and this is what the game's explosive campaign takes you through!
The 5 screenshots released are showing the great capability of the graphics engine developed by Eugen Systems: Lighting, modelling, visual and sound effects, but also the size of the battlefields and number of units... all aimed at creating a grand visual showcase, while still providing a real depth to strategy. Battles are as impressive as there are profoundly tactical.
The game will be released on PC in retail and online stores first quarter 2012.
Trine 2 European Collector's Edition Unveiled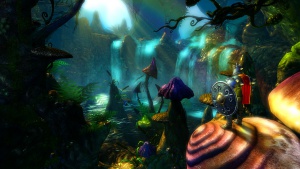 Independent French publisher Focus Home Interactive has revealed the contents of the Trine 2 European Collector's Edition.
The collector's edition of Trine 2 for PC and Mac includes the full game, soundtrack, a gorgeous art book commented by the developers from Frozenbyte, and also the first Trine game. The whole package will be sold for a €19.99 or £14.99 in UK.
Trine 2 takes gamers on another adventure with the powerful knight Pontius, the swift thief Zoya and the crafty wizard Amadeus. The three heroes embark on a new adventure more fantastic than ever, where you will have to survive lethal traps and terrifying monsters, solve many physics-based puzzles and unravel an epic mystery during a challenging campaign that can be played either solo or in co-op with up to 3 players online or offline.
Trine 2 will be available in Europe in December 2011 for PC and Mac, in online and retail stores.
Max Payne 3 Scheduled for Release on March 2012
Rockstar Games has announced that Max Payne 3 will be released in Europe and North America on March, 2012. The game will be available on PC, Xbox 360 and Playstation 3 from the first day.
Max Payne 3 continues the tale of former New York City detective, Max Payne. Still haunted by the memories of his traumatic past, Max begins a new life working private security protecting a wealthy industrialist and his family in Sao Paulo, Brazil. When gangs target the family under his protection, Max is forced to fight to save his clients and clear his name, in a bid to, once and for all, rid himself of the demons that have tortured him for far too long.
Rise of Immortals to Feature 3D support
Petroglyph studios have announced that their eagerly anticipated Multiplayer Online Battle Arena (MOBA) game Rise of Immortals will feature NVIDIA 3D Vision™ support.
PC gamers with a NVIDIA GeForce® 8-series or higher graphics processing unit (GPU) and compatible 3D Vision ready display will be ready to play Rise of Immortals in 3D when the game is released this summer. Players will simply enable the option in the game's graphic settings and put on a pair of 3D Vision glasses for an immersive out-of-screen experience with the game's eye-popping graphics.
"Creating beautiful, highly intricate setting and characters was one of our goals from the beginning with Rise of Immortals" said Steve Wetherill, executive producer of the game. "But adding NVIDIA's 3D Vision technology on top of it provides a new level of immersion, and makes Rise of Immortals stand out among other MOBA-style games."
Hide and Secret: The Lost World released
Anarchy Enterprises has announced today the release of Hide and Secret: The Lost World, a casual game for PC.
In this new game, the nefarious treasure thief Jacques has kidnapped another damsel, and it's up to the player to stop his evil plans before she is sacrificed at the spooky full moon ritual. Gamers journey through haunted ruins and diabolical traps on their quest to find the secret Golden Treasure, and unravel the mystery of this epic adventure before it's too late!
Hide and Secret: The Lost World features:
Strategy Guide included in-game
Spooky locations and eerie gameplay
Diabolical traps and mini-games
Engrossing and mysterious adventure
Thrilling plot twists and turns
Incredible hidden object scenes
Hours of deep, rewarding gameplay

For older news, please see our News archive.