Difference between revisions of "News archive"
Jump to navigation
Jump to search
 

(21 intermediate revisions by the same user not shown)
Line 1:
Line 1:
 

This page contains an archive of older game related news. For the latest news, please read the [[Main Page]].

 

This page contains an archive of older game related news. For the latest news, please read the [[Main Page]].

 
 
−

==This years' news==

+

news on the . the , [[]].  

−

===King's Bounty: The Legend available on Steam===

 
−

Valve Software has announced that the RPG and TBS hybrid game King's Bounty: The Legend is now available on Steam. Gamers can purchase the game with a 10% discount until the 8th of May.

 
−

===Fallout: New Vegas announced===

 
−

Bethesda Softworks has announced during a London press event that it will collaborate with Obsidian Entertainment to create the new Fallout title, [[Fallout: New Vegas]].

 
 
 
−

The game will be released in 2010 and will work on [[:Category:PC|PC]], [[:Category:Xbox 360|Xbox 360]] and [[:Category:Playstation 3|Playstation 3]].

+
 
+
 
+
 
+

[[:Category:PC | PC]] [[]]

 
 
−

According to Peter Hines, the vice-president of Bethesda Softworks, Fallout: New Vegas will not continue the story of Fallout 3 - it will be just another RPG game taking place in the Fallout universe.

+

the the of the .  

 
 
−

===Braid delayed===

+

to the , 's the .

−

According to the official blog, Braid's launch on the PC will be delayed by 10 days.

 
 
 
−

Johnathan Blow wrote in his blog post that this delay is caused by a few issues discovered during the final testing of the game.

+
−

===Crysis Maximum Edition to be released soon===

+

======

−

Crytek and Electronic Arts are planning to release Crysis Maximum Edition, a package containing all three Crysis games: [[Crysis]], [[Crysis Warhead]] and [[Crysis Wars].

+

[[]] , .  

 
 
−

The package will be available on all well known download platforms like Direct2Drive or Steam, starting from the 5th of May.

+

, of .

−

===Eve Online retail box contents released===

+
−

CCP has released details about the contents of the retail version of Eve Online.

+

===released===

 
+

has the of the of .

 
 
−

The retail box will feature:

+

game, a the a with and

−

* 60 day subscription which can be split in two 30 days subscriptions or changed into the game currency, ISK

 
−

* VIP pass which allows players to invite a friend to the game for 21 days

 
−

* Instant War Access which gives new players quick access to organized battles

 
−

* Exclusive Career Guide, a guide with useful informations and also available online

 
−

* an improved in-game spacecraft called Interbus Shuttle, which has a larger cargo space and is a bit faster

 
 
 
−

This retail box will be available for $34.95 in US stores starting from the 10th of March or from the 12th of March in Europe.

+
 
+

box

 
+
 
+
 
+

 

 
+
 
+

 

 
+
 
+
 
+
 
+

will be available for

 
+

 

 
+
 
+

 

 
+
 
+

 

 
+
 
+
 
+
 
+

 

 
+
 
+
 
+

. in

 
+

 

 
+

starting from

 
+

 

 
+

the of or of

 
+

 

 
+

in Europe .

 
 
 

[[Category:News]]

 

[[Category:News]]
---
Latest revision as of 11:32, 25 May 2012
This page contains an archive of older game related news. For the latest news, please read the Main Page.
The following news items were listed on the Main Page in 2010. For previous news, please see the news archives for years 2010, 2009, 2008, 2007 and 2006.
News Archive
Garshasp release date announced
Game publisher "Just A Game" has announced that their latest project, the PC action-adventure game Garshasp, is scheduled to be released at the end of May 2011,
The game's action revolves around the monster slayer Garshasp from the Persian legend of the same name.
In a virtual ancient Persian kingdom, recreated from stone carvings thousands of years old, the player's task is to save all humanity from evil. The Army of Darkness has retrieved its ancient powers and now threatens the humans' freedom. Deevs, grisly monsters which thirst for human blood have snatched power and now hold sway over mankind. Now it's down to the player to free humanity from the yoke of subjugation. In countless battles with Azhadahak and his terror-inspiring troops, the player can draw upon copious quantities of weapons, combo attacks and crafty special moves to prove their valour. But it's not just monsters that await the player, the way through Khunirath is also peppered with a multitude of puzzles.
Dungeon Siege III release date changed
Square Enix has announced that the launch date for Dungeon Siege III in Europe and other PAL territories is now 17th June, 2011.
Developed by Obsidian Entertainment and shipping for the Xbox 360, PlayStation 3 and Windows PC, Dungeon Siege III blends a robust RPG system, an endless variety of loot and a compelling storyline with intuitive action gameplay.
ArcaniA - Fall of Setarrif trailer released
JoWooD Entertainment AG has announced the release of the official trailer for ArcaniA - Fall of Setarrif on their website, offering first insights into in-game footage.
In this new game, a mysterious demon, consumed by hatred, terrifies the population and pools his force against the coastal city of Setarrif. The dramatic situation exacerbates after a volcanic eruption in the mountains nearby. A nameless hero joins forces with his strongest allies and courageously faces the new menace.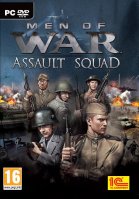 Men Of War: Assault Squad demo released
Eastern and Central European publisher 1C Company has announced the release of a demo for the sequel of the critically acclaimed real-time tactics game [[Men of War].
The Men of War: Assault Squad demo features the first level putting players in the heat of the Pacific War, and once they have proven themselves in combat they can play another skirmish mission in the European Theatre.
The game will available for purchase starting from the 25th of February 2011.
L.A. Noire release date announced
Rockstar Games and Team Bondi Pty Ltd have announced that L.A. Noire will be available for purchase on Xbox 360, PC and Playstation 3 on the 17th of May in North America and the 20th of May in Europe.
Set amid the violence and corruption of post-World War II Los Angeles, L.A. Noire is a crime thriller that seamlessly blends crime-solving, clue-finding, car chases and shoot-outs with revolutionary new interrogation-based gameplay that will allow players to read characters' emotions in order to reveal the truth. Players will take on the role of Cole Phelps, a decorated war veteran, who rises through the ranks of the LAPD by solving a series of gruesome murders and other crimes that bring him face-to-face with the dark heart of Los Angeles during Hollywood's Golden Age.
Developed in a special partnership with Rockstar Games and Team Bondi, L.A. Noire employs ground-breaking new MotionScan performance-scanning technology. MotionScan utilizes 32 high-definition cameras to capture actors' faces in 3D, transferring every aspect of their performance into the game, enabling players for the first time to lip-read in-game characters and to read every facial expression down to the finest detail.
Breach ready for release on Xbox 360 and PC
Atomic Games has announced that their most recent game titled Breach has been certified and is ready to be launched on Xbox 360 and PC.
The military shooter will be launched on the 26th of January and will feature precise and massive destruction that can change the very nature of multiplayer combat. Players will also be able to take advantage of an advanced cover system while everything is destroyed around them or switch to a Hardcore Mode, which attempts to simulate how military operatives train.
Free stress test for Mythos at the end of the month
HanbitSoft Inc. has announced that their new MMO Mythos is ready for the 'Family & Friends' phase, in which the game developers hope to be able to test how well the servers will scale when thousands of players try the game at the same time.
On December 28th, thousands of players that previously register on the official website will be allowed to enter the game world for the first time to test the capacity of the servers, starting from 11:00 CET (10am UK).
Mythos brings the highly successful Hack-and-Slash formula to an action-packed online role-playing game, offering players a virtual fantasy world based on a comic book-style atmosphere where they hunt countless monsters in a variety of dungeons or compete with each other in gripping PvP battles. There is also a choice of four races and three character classes which can be heavily customised.
Mythos, originally developed by Flagship Studios since 2009 and now further prepared for its release in Europe by the Korean publisher HanbitSoft, is due to be launched in early 2011 and will be free to download and play.